The Cluster "Intelligent Factories" and Skipsolabs launch the Call for Innovation to identify startups with which to start new strategic partnerships. The Call is open to Italian start-ups and SMEs that develop solutions based on sustainable and original business models in line with the strategy of CFI and its associates.
The Goal
To give the opportunity to all members of the Cluster to get in touch with the innovation ecosystem to forge partnerships and foster high-tech Proof of Concepts (Pocs) collaborations and developments.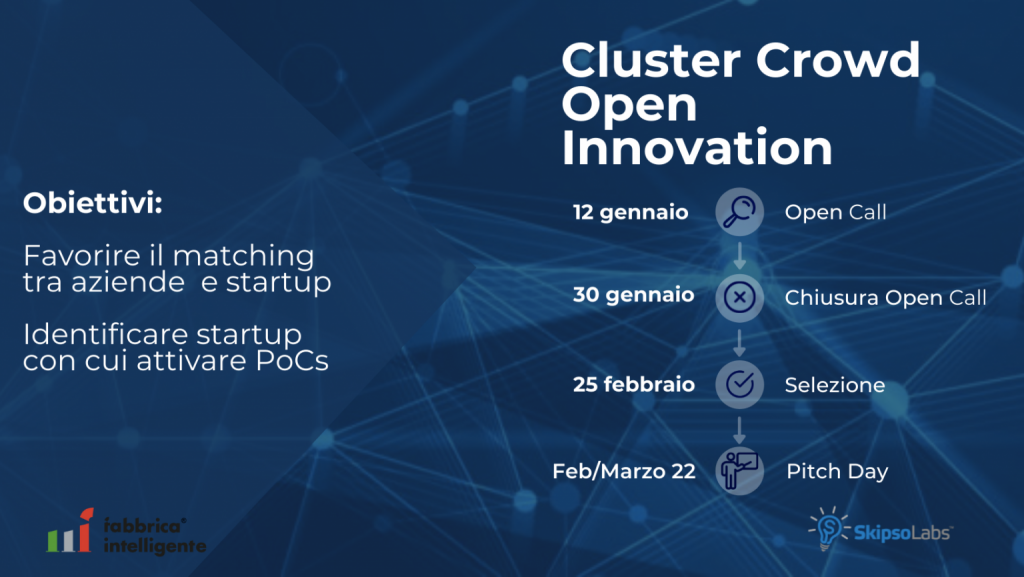 Themes of development
Projects should cover the following areas:
• Improvement of interaction between systems and operators, in the new perspective of Human Centrality;
• Sustainability of manufacturing processes, to propose a more sustainable factory of the future through the implementation of new technologies;
• Evolution of supply chain cooperation, through the cooperation between different sectors and the introduction of digital technologies to share data.
Each startup will be evaluated for the match-making phase and the most relevant ones for at least one of the companies or partners of the Cluster will be put directly in contact with the company.
Applications must be received by January 30th.
Click here for more info.