The 1st Deployment Voucher Open Call of the project Change2Twin is OPEN!
Who can participate?
Manufacturing SMEs who are interested in developing a digital twin solution for their business.
The project is aimed at all those manufacturing SMEs that are in search of finding solutions to digitise their processes and are established in an EU or other eligible country.
When is the deadline?
Until the 30th September 2021, interested manufacturing SMEs can fill the online application.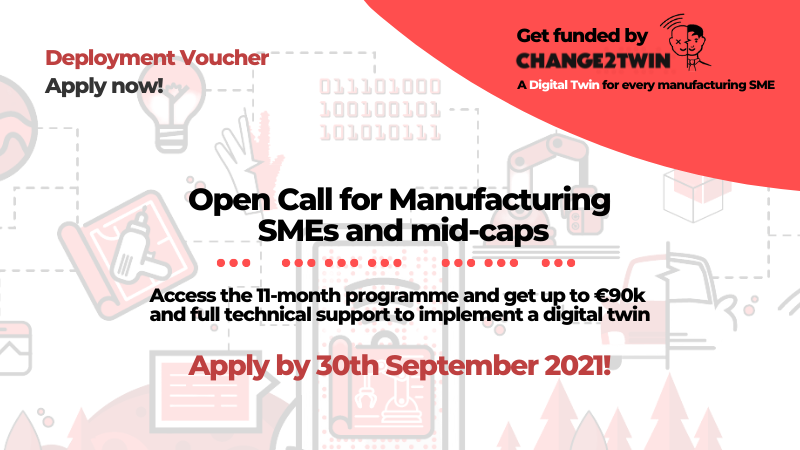 What are the benefits?
For winners it is possible:
to access to an 11-month support programme with top-class technical experts to mentor the implementation of a digital twin solution;
to obtain a 90 000 Euro lump sum to cover the costs to deploy the digital twin solution;
to be part of a publicly funded programme specialised in providing access to digital twins solutions for manufacturing SMEs and mid-caps all over Europe;
to work with a set of top, target oriented Digital Innovation Hubs (DIHs);
to be part of a cutting-edge project and to increase networking at EU level.
Check out the Open Call microsite and getting for more information, eligibility criteria and applications: Click here!
For any doubts, go to the Change2Twin Help Desk Community or contact opencalls@change2twin.eu