The award to the 1,000 best performers of the province of Treviso will be presented on 29th November at 17.00 at the Teatro Comunale Mario del Monaco in Treviso.
The thousand Best Performers are companies with a turnover of 5 million or more that between 2017 and 2019 have respected a series of positive balance sheet parameters: excellent or balanced rating, EBITDA equal to or greater than 3.17%, closing of the 2019 financial statements in profit.
At the end of the ceremony will be awarded the certificate of "Best Performer Company of Treviso". The award ceremony will also be an opportunity to discuss the main issues related to businesses through the holding of three meetings. Among the interventions there will also be Antonella Candiotto, president of GALDI, partner company of RIR IMPROVENET.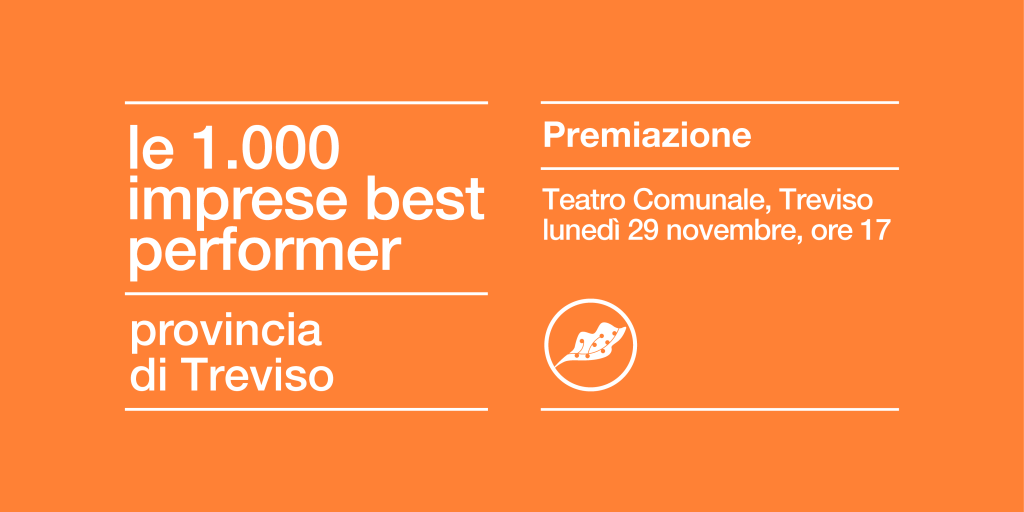 At the end of the ceremony will be awarded the certificate of "Enterprise Consult the program below:
THE PROBLEMS AND THE OPPORTUNITIES FOR RECOVERY
Luisella Altare, Regional manager of Nord Est Unicredit
Diego Bolzonello, CEO of S.C.A.R.P.A.
Antonella Candiotto, President of Galdi
Filippo Polegato, Managing director of Astoria Vini
Roberto Rizzo, president of Solidworld Group
WHAT BUSINESSES NEED TO GROW
Giuseppe Caldiera, Director of the Scuola Generale di Economia CUOA
Riccardo Pavanato, Partner and Administratorof Auxiell
Davide Salmistraro, Country manager of Italia Soldo
Barbara Targa, EXS Practice Leader
Elia Turatti, Business development manager of Azzurrodigitale
THE VENETO BETWEEN FLEXIBILITY AND ATTRACTIVENESS
Roberto Marcato, Council Member for the Economic Development and Energy of the Veneto Region
Stefano Micelli, Professor of Economics and Business Management Ca' Foscari University Venice, President of Manifattura Project Milan
To register for the event see this link.